Rivet is a browser extension for Chrome and Firefox which links Foundry and the 5eTools website, allowing 5eTools to push content such as creatures, items and the results of rolls to Foundry VTT.
Rivet requires you to have a Foundry game session open in another tab of the same browser as 5eTools.
Rivet allows you to quickly import content such as creatures, items and more to Foundry VTT directly from the 5eTools website.
Rivet will also send rolls you make in 5eTools to Foundry VTT.
The result of the roll inside Foundry and the result in 5eTools will be different!
Follow the links below depending upon your browser to install Rivet from a store.
* Chromium based browsers may work with the Chrome extension but are unsupported.
If that does not work, you can install manually following the steps below.
Inside the plutonium folder there will be a zip file containing Rivet.
Open the Extension Management page by navigating to chrome://extensions.
The Extension Management page can also be opened by clicking on the Chrome menu, hovering over More Tools then selecting Extensions.
Enable Developer Mode by clicking the toggle switch next to Developer Mode.
Click the LOAD UNPACKED button and select the extension folder.
Enter about:debugging in the address bar
Click This Firefox on the left
Click Load Temporary Add-On… and select the manifest.json file inside the .zip you downloaded.
You will need:
When Rivet is active you'll see the Transfer via Rivet icon: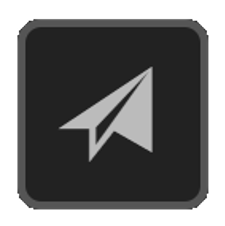 Clicking the icon will transfer the active content into Foundry's Journal, Item's Directory, or a specific Actor's inventory (if setup in the Config Editor).
Rivet's options can be configured by right clicking on Rivet's icon

in your browser.
You can configure whether rolls are sent to foundy; and if so, whether they are hidden from players.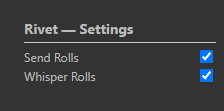 Help with Rivet can be found in our community Discord.
Rivet is developed by Giddy, please consider supporting his patreon.
No known Issues at this time.
See Plutonium Known Issues for more info.
You need to update Rivet.
Most likely because you're using the native Electron stand alone app. You have to have a Foundry session logged into the same browser with Rivet installed that you're using 5eTools through.
(Both must be the same session type - i.e. an incognito/private browsing session & a normal session will not communicate with each other.)
Current version of Rivet is 0.1.6 as of 2021/09/27
The use of this tool is meant for your own campaigns. It is only meant and should only be used on campaigns with content that you legally possess.
The use of this tool may be against the FOUNDRY Virtual Tabletop EULA or Terms of Service with your hosting service provider.
Plutonium, 5eTools, and the Norr Group are not affiliated with Foundry Gaming, LLC and are developed independently.